Roller Angels is a downloadable DSi game. It is 500 DSi points
Roller Angels
Edit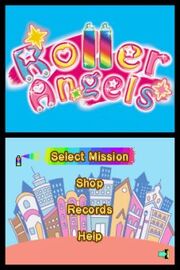 Aliens named Monodromes have been stealing Blissburg's colors. It's up to the Roller Angels to bring back Blissburg's colors! When you start the game Dr. Lionel tells you all that you need to know. Then you get to start the stages using one of the three Roller Angels, Patty, Mee, or Becky. You can take pictures and they can paint onto the buildings. You can get art that you can buy with gold. You may also go through the levels and get a certain amount of gold and points.
Ad blocker interference detected!
Wikia is a free-to-use site that makes money from advertising. We have a modified experience for viewers using ad blockers

Wikia is not accessible if you've made further modifications. Remove the custom ad blocker rule(s) and the page will load as expected.